Santa Cruz County Hard Money Lenders
We are able to assist with hard money loans in Santa Cruz County and the surrounding areas.  We specialize in private hard money loans and have access to a wide variety of funding solutions – even hard money seconds and thirds!  If you have been turned down elsewhere, give us a call to discuss your Santa Cruz County hard money loans and scenarios.
Santa Cruz County, located on the central coast of California, is a vibrant and diverse community with a thriving real estate market. With its beautiful natural scenery, charming downtown areas, and abundant outdoor recreation opportunities, Santa Cruz has become a popular destination for homebuyers and real estate investors alike.
As of 2020, the population of Santa Cruz County was approximately 282,000, with a mix of young families, retirees, and professionals who work in a variety of industries, from tech and tourism to education and healthcare. The county's housing market is highly desirable, with a mix of single-family homes, townhouses, and apartments to suit a wide range of tastes and budgets.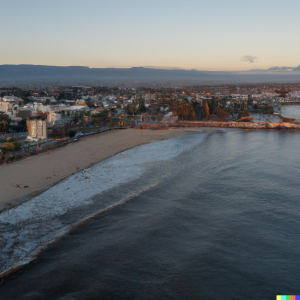 One of the standout features of Santa Cruz County is its specialty real estate. For example, the county is home to numerous beachfront properties, including homes with breathtaking ocean views and direct beach access. In addition, there are many historic homes, charming cottages, and rustic farmhouses located in rural areas throughout the county. These properties offer a unique opportunity for real estate investment, as they can be restored and renovated to their former glory, or used as vacation homes or rental properties.
Santa Cruz is also known for its breathtaking natural beauty, including the Santa Cruz Mountains, the Monterey Bay, and the Big Basin Redwoods State Park. These areas offer endless opportunities for outdoor recreation, including hiking, biking, surfing, and more. As a result, many residents and visitors alike flock to these areas to enjoy the stunning scenery and scenic beauty that can only be found in Santa Cruz County.
Another popular landmark in the county is the Santa Cruz Beach Boardwalk, a classic American boardwalk that has been in operation since 1907. The boardwalk offers a variety of attractions, including an amusement park, a casino, and a variety of restaurants and shops. This iconic destination is a popular destination for tourists and residents alike, and it is an important part of the county's history and heritage.
For real estate investors and homebuyers looking to invest in Santa Cruz County, private hard money loans are available throughout the county for a wide range of property types, including residential, commercial, land, fix and flip, and unique properties. These loans provide fast, flexible financing for individuals and businesses looking to invest in Santa Cruz's real estate market. With the help of private hard money lenders, investors and homebuyers can take advantage of the many opportunities available in Santa Cruz County, and take the first step towards realizing their real estate dreams.  We can help with hard money loans throughout Santa Cruz County, including:
Aptos
Ben Lomond
Boulder Creek
Brookdale
Capitola
Felton
Freedom
La Selva Beach
Live Oak
Loch Lomond
Santa Cruz
Scotts Valley
Soquel
Watsonville
Whether you are looking to buy a home, start a business, or invest in real estate, Santa Cruz County is an excellent destination. With its vibrant communities, beautiful natural scenery, and rich history, Santa Cruz is the perfect place to call home. And with private hard money loans readily available, investing in this dynamic and exciting county has never been easier.