All California Lending is able to help with non bank financing throughout the state of California.  We can help secure funding for most locations, including Truckee hard money loans.  This recent funding was a Truckee hard money construction loan.  We were able to assist with funding to secure the purchase, construction and interest reserves for this project.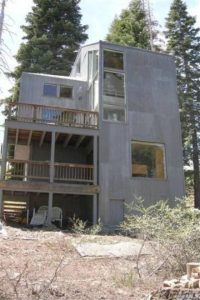 The property was put under contract and was being acquired for slightly below market value.  The guarantor has years of development experience.  His concept to add square footage to the property was to essentially take the existing structure's bones  and then create an end product that would be considered new construction.  In structuring the build in this manner he will be able to realize a nice profit margin.  Property considered new construction is selling at a premium in the area.
The location is a highly desirable Truckee property, backing to forest land in the Donner Lake area.  Plans and permits were not approved at the time of our funding.  We were able to structure the loan based on an as complete value for the property.  We also were able to build in enough interest reserves to carry the project through to completion.
This hard money loan in Truckee was set up to be interest only.  There is no prepayment penalty on the loan.  The interest reserves that are not used will be refunded to the borrower (or discounted from the payoff) at sale.  We were able to get this done with no appraisal required.  The investors flew up to the property, did a site visit and verified our internal comps to confirm value and project feasibility.
We can help with many different types of hard money loans in Truckee and the surrounding areas.  Whether it is construction completion, ground up construction, acquisition of a rental or commercial property or a refinance of an existing property, we can help!  Give us a call today to discuss the options we can provide at 877 462 3422.  You may also visit our California hard money loans page to see our guidelines for Truckee hard money loans.